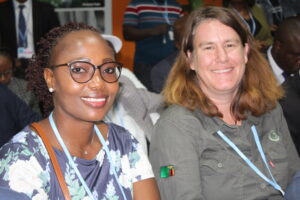 Hosted last month in Sharm El-Sheikh, Egypt, COP 27 (Conference of the Parties under the UNFCCC) was arguably the most eventful of the COPs to date.
We were there, and with so much to dissect, we thought we'd make it a bit easier by listing the key takeaways that are relevant to us here in Zambia and Africa.
What you need to know:
The launch of the African Carbon Markets Initiative (ACMI) puts Africa center stage for the expected boom in the voluntary carbon market offset supply, with the aim for the continent to produce 300 million offsets a year by 2030, with a target revenue of $6 billion, and the creation of 30 million jobs. Looking ahead to 2050, the goal is for the continent to be producing between 1.5-2.5 billion annually, with an annual revenue of $100 billion, and 100 million jobs created across the continent. Zambia has committed to increasing benefits to communities as well as introducing reforms that will see the forest carbon sector contributing to the country's national budget. BCP is exceptionally proud to be supporting this initiative, which is in line with BCP's own ambitious goals for 2030, where we aim to be preserving 11 million hectares and contributing to an emissions reduction of 30 million tons annually. More details here.
In a Historic 'win' for developing nations, the Loss and Damage Fund was adopted. Countries at the United Nations COP27 climate summit in Egypt have adopted a final agreement that established a fund to help poor nations cope with the extreme weather events caused by global warming. COP discussions reflected the strong support to establish a financial mechanism focused on loss and damage, the further movement towards a just transition, and also for local adaptation and resilience solutions that are responsive to the needs of vulnerable communities. Zambia, along with other developing nations is in full support of this Fund. Full story here.
On Africa's priority issue of adaptation, there is agreement amongst parties to accelerate working on identifying indicators and targets to facilitate support towards achieving the goal and assessing collective progress. This is an essential step toward the implementation of the Adaptation Goal and the agreement to focus on specific sectors.
We were pleased to find an emphasis placed on Youth and Future Generation Day, which will help to widen the narrative around Africa as a hub of opportunities and innovative solutions. As this highlights how youth are collaboratively driving action and change, including issues of climate justice.
Countries launched a package of 25 new collaborative actions in five key areas: power, road transport, steel, hydrogen, and agriculture. What you need to know.
Antonio Guterres, Un Secretary-General, announced a $3.1 billion plan to make sure within the next five years that everyone on the planet is protected from climate change by early warning systems. More details.
The UN published its official report, serving as a how-to-guide to ensure credible, accountable net-zero pledges by industry, financial institutions, cities and regions. Find out more.
The Global Shield Financing Facility was launched by G7, which provides funding to countries suffering climate-related devastations—linked here.
The Global Environment Facility Fund announced a total of $105.6 million in new funding to target the immediate climate adaptation needs of low-lying and low-income states. Read about the Fund here.
The Forest and Climate Leaders' Partnership was launched, which will unite action across governments, businesses and community leaders to halt forest loss and land degradation by 2030. Tell me more!
US Climate envoy John Kerry unveiled the concept for an Energy Transition Accelerator (ETA) that would empower companies to buy carbon credits to support developing countries to accelerate the phase-out of coal power and renewable power expansion. Read more.
The World's third largest emitter, India, released its long-term climate strategy, with a net-zero target by 2070. Catch the plan here.
150 countries (an increase of 50 over the initial signatories made during the UN's climate talks last year) have now committed to the Global Methane Pledge's Action to address methane emissions. More right here.
It may still be some time before countries can offset their emissions with credits based on greenhouse gas-reducing projects elsewhere, under an international carbon market first called for in Article 6 of the 2015 Paris climate accord. What does this mean?
Like what you read? Sign up for our newsletter for all of our news.
We're also pretty social, catch us on our socials at:
Facebook – @BioCarbonPartners
LinkedIn – @BCP(BioCarbonPartners)
Instagram – @biocarbon_partners
Website – BCP.earth
To find out more about us check out our 2021 Impact Report right here.