27-Year-old Milika from Mnkhanya is heading back to school thanks to Climate Finance!

Abandoning her dreams of becoming a nurse, Milika dropped out of school just before completing her Grade 12 exams to help her family farm ~
"I left school before I had the chance to finish my final exams due to pressures in the home to help on our family plot to make sure we planted enough to give us enough food to survive. But now, as a BCP Follower Farmer, my family and I learned from a Lead Farmer about conservation farming and it has changed the way that we farm… and live!"
"Even when there is drought we have food security. And I am very proud to reveal that I am using the surplus income and time from following conservation farming to go back to school and sit my Grade 12 exams, to give myself a bright future".
Milika Chulu, Mnkhanya Chiefdom, Eastern Province.
Zambian subsistence farmers, like farmers the world over, strive to drive down costs, and access crop and input markets, and third-party agricultural support services, while increasing their on-farm yields and productivity.
Traditional tillage practices that characterize small-scale farming systems in Zambia often mean that on-farm yields and productivity levels are too low to provide adequate household food security and future on-farm investment opportunities.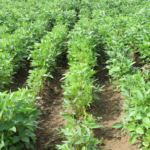 Conservation Farming Minimal Tillage practices are widely acknowledged as technologies that offer all farmers the opportunity to increase their productivity and yields, adapt more effectively to adverse climatic conditions, improve the fertility of their soils, and minimize negative impacts of agriculture on the environment as well as navigating the turbulence generally associated with commodity and agricultural input supply markets.
Higher returns on investments and increased cash flow in turn powers the purchase of inputs from agro-dealers, and provide the crop that farmers need to sell into available markets.
This ultimately starts with on-farm yields.
BCP and the Ministry of Agriculture support 500 Lead Farmers (who in turn each support 25 Follower Farmers) in our bid to scale up food security and agroforestry in the Chiefdoms that we partner with under the UN's REDD+ Model.