We could not think of a better day than World Wildlife Day to share the exciting news that Lions are back in Rufunsa Conservancy.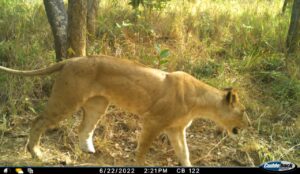 For years and years, we have dropped everything at the mention of an indication that lions may have passed through the conservancy – from paw prints discovered, the faintest of roars heard on patrol or even an outline of what may look like one seen away in the distance.
But we have never been able to say for certain that these majestic and iconic African mammals have been in Rufunsa.
Until now.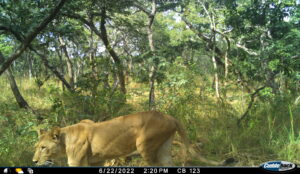 Now we have overwhelming proof – Spotted on camera trap, seen on patrol, husky roars heard from camp, and paw-prints-a-plenty to let us know they've been on the prowl.
After 10 years of preservation work, resource protection, teamwork amongst partners, and forest conservation under REDD+… lions are finally using Rufunsa Conservancy as a passage to roam through.
In recent years BCP, together with our conservation partners, has been able to observe an increase in a lion's potential prey base. When you combine this with increased resource protection efforts through scout patrols, aerial monitoring, camera trap footage; community development, and sensitization of forest preservation, it has created a robust enough ecosystem for the lions to once again make safe passage through.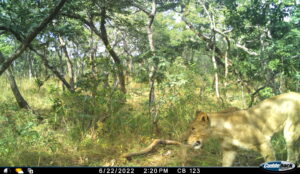 The World Economic Forum places biodiversity loss as the fourth most severe threat humanity will face in the next 10 years, so news of ecosystem restoration such as this truly is a triumph for biodiversity in Zambia!
Watch this space as this exciting and epic biodiversity win unfolds…
As the first REDD+ project in Zambia, the Lower Zambezi REDD+ Project pioneered the development of forest conservation projects in the country. The project is currently the first project in Africa to have achieved 9 consecutive and successful verifications against the Verified Carbon Standard (VCS) and was the first project in Africa (second in the World) to achieve CCB Triple Gold Verification against the Climate, Community, and Biodiversity Alliance Standards. Protecting a total of 40,126 hectares in Rufunsa Conservancy, it supports just over 7000 beneficiaries in Bunda Bunda Chiefdom through REDD+.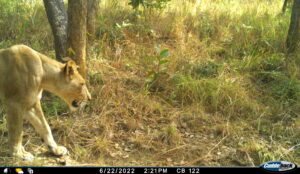 We understand that there is a direct link between economic deprivation and a dependency on the forests, which is why we work so hard to deliver life-changing benefits to communities using climate finance as a way to offer alternatives to using the forests as a source of income and livelihoods.
None of this would be possible without our partners: The Department of National Parks and Wildlife, Forestry Department (Ministry of Green Economy and Environment – Zambia) Lion Landscapes, the private game reserves who work tirelessly to protect the wildlife corridors that allow predators safe passage through, Conservation Lower Zambezi for the tremendous work they do in the area, and Zambian Carnivore Program.